BLEEX.
This is coolbert:
Once again, I am on the topic of "gadgets" or "devices" that will enhance the
physical capabilities
of the soldier at war.
Those of us that have seen the movie
"Aliens"
will remember the scene where Ripley [Signourey Weaver], straps herself into a power lifting exoskeleton to fight the alien creature. A really violent and power scene.
An exoskeleton:
"Basically, an exoskeleton is a
wearable machine
that gives a human
enhanced abilities
. Imagine a battalion of super soldiers that can lift hundreds of pounds as easily as lifting 10 pounds and can run twice their normal speed. The potential of
non-military applications
is also phenomenal. In 2000, DARPA requested proposals for human performance augmentation systems, and will soon be signing contracts to begin developing exoskeletons. The military agency said that the testing of this new technology is at least a decade away. It will be much longer before soldiers are donning these body amplification systems for battle."
"a wearable machine that gives a human enhanced abilities."
Stuff of science fiction, "Aliens", Robert Heinlein, the future, and all that!!
Right??!!
Wrong!!
This "stuff" is
now
.
Projects sponsored by DARPA [Defense Advanced Research Projects Agency] have come to fruition. This stuff is in the infancy stage. But what the lay person probably thought is far off in the future is definitely
NOW!!
While not a novel or new concept, it seems that technology, combined with advanced mechanical and electronics engineering has now advanced to a stage where devices of the exoskeleton sort are now feasible and practical.
"An early attempt to outfit a person with a robotic strength-amplifying machine produced the crude 1960's Goliath known as Hardiman 1.
The latest and most advanced gizmo, now ready for trials and perhaps manufacture, is a creation that can only be described as being "far out!!!"
It is called
BLEEX
. A mechanical apparatus that allows the wearer to carry enormous loads long distances as if it was nothing. Carrying a one hundred fifty [150] pound load feels as if you are carrying a
FIVE
pound load???!!!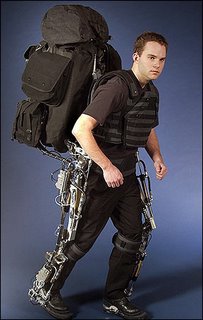 Read about
BLEEX
by clicking
here
,
here
and
here
.
And of course, someone has come up a "vehicle" that is similar in nature to the
flying platform
. But an exoskeleton of very advanced design.
Will this too come to fruition and become part and parcel of the soldier's arsenal?? Only time will tell.
coolbert.